Department of Oral and Maxillofacial Pathology (Department of Oral Pathology)
The Department of Oral and Maxillofacial Pathology (Department of Oral Pathology) traces its origin to 1951 when the Faculty of Dentistry was founded, and there is a history of about 70 years. The mission of the Department is to provide the academic basis and environment that allows the dental student, fellow and staff to excel in the education, research, diagnosis and therapy. Our goal is to deepen our knowledge of the pathophysiologic mechanisms of the disease, and to support for the dental and medical treatment through teaching, diagnosis and researching.
| | |
| --- | --- |
| Professor | Satoru TOYOSAWA, DDS, PhD |
| Associate Professor | Sunao SATO, DDS, PhD |
| Associate Professor | Yu USAMI, DDS, PhD |
| Assistant Professor | Katsutoshi HIROSE, DDS, PhD |
■ Research Activities
 The research focus in our department is to reveal the pathogenesis and pathophysiology of human diseases. Currently, we are conducting two themes; hard tissue and oral cancer research.
【Hard Tissue Research】
 To clarify the pathogenic mechanisms of bone diseases, the life phenomena related to physiologic or pathologic calcification have been investigated using molecular biological techniques. We discovered that bone matrix proteins, DMP1 was expressed in osteocytes, but not osteoblasts. Based on its unique expression and biochemical features, we are studying the functional analysis of DMP1 molecule and its application in a clinical setting. Also, we are investigating the phosphate/pyrophosphate homeostasis and physiological significance of matrix phosphorylation in the bone tissue.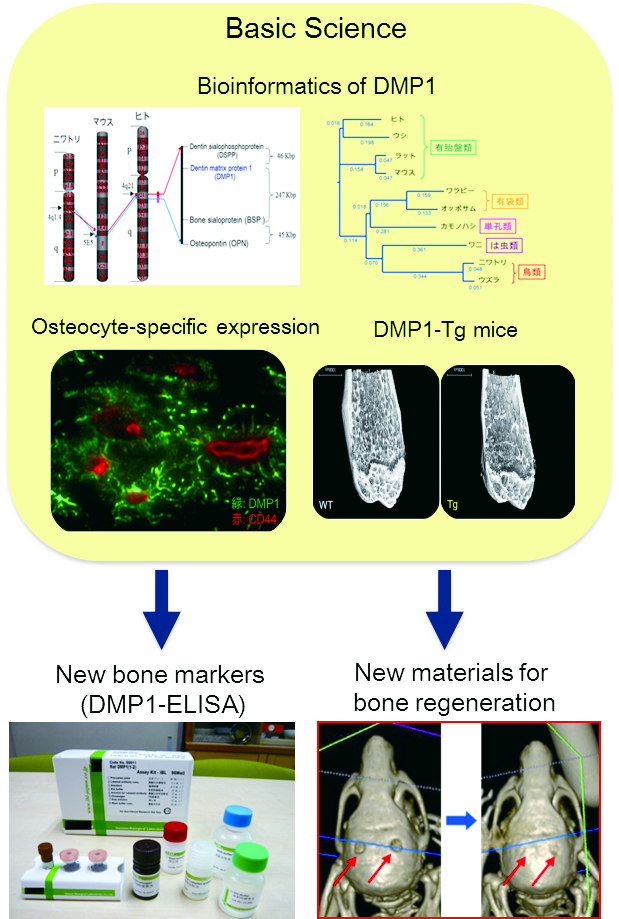 【Oral Cancer Research】
 The main histological type of oral cancer is squamous cell carcinoma (SCC), which arise from squamouse pithelium covering almost every part of the oral cavity. SCC is thought to develop as a result of progressive accumulation of genetic changes which starts from an early phase of carcinogenesis. Histologically, this early phase is recognized as oral dysplasia and non-invasive SCC .Accurate diagnosis of the dysplasia and non-invasive SCC is important to control the progression of oral cancer. However, current histological grading alone does not accurately predict which early lesions will progress to life threating cancer, because the natural history of these lesion has not been clearly uncovered. To understand the pathophysiology of the early phase of oral cancer, we are conducting chemically-induced oral carcinogenesis mouse model, which allow us to obtain several types of research recourses.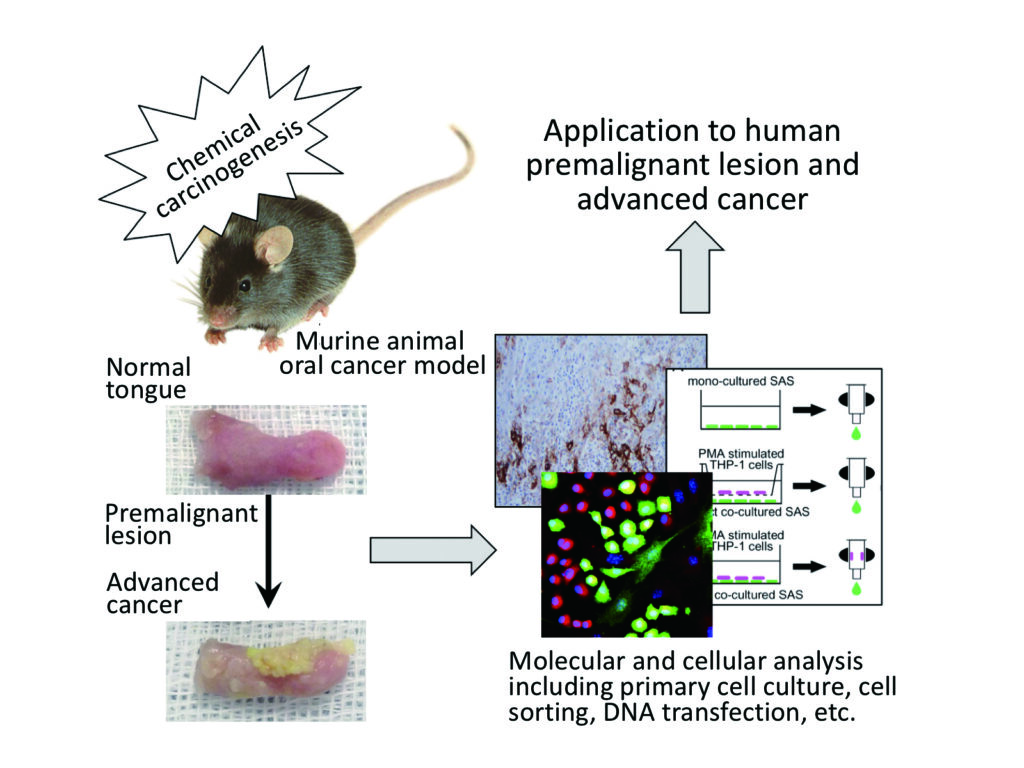 ■ Clinical and educational activities
 We are also involved in diagnostic pathology service in the Osaka University Dental Hospital. We are applying the molecular diagnostic methods to traditional histopathological diagnosis for providing a definitive diagnosis. We regularly have a clinicopathologic conference inside and outside the University.Through these activities,we disseminate up-to-date knowledge, educate young pathologists and clinicians and improve diagnostic skills.